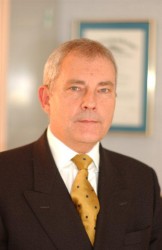 MOSS, Paul James
Education
St. Andrews High School for Boys & Worthing College
Positions Held
Group Head of Claims – Montpelier Re., 2008-2013
Head of Claims – QBE European Operations and Limit Underwriting Limited, 2000-2008
Chief Claims Officer – AXA Re – Worldwide, 1992 to 2000
Claims Manager – Charter Reinsurance Company & Claims Director, Lime Street Services Limited, 1986 to 1992
Various other senior claims positions in the London Market going back to 1978. Prior to that, worked in law and primary insurance
Present Position
Managing Director, Xecute (Partners) Limited; Managing Director, FTI Consulting
Other Activities
Non Executive Director – Navigant Consulting UK (a subsidiary of the parent company based in Chicago, USA, 2001 to 2009).
Professional Associations
Chaired LMA Reinsurance Claims Group from 2006 to 2008
Sat as member of Lloyd's Members' Claims Group and newly formed London Market Claims Strategy Group
Held Company membership of CEDR and CPR (New York) and served as member of training committee for Insurance Association of Claims Professionals
Associate of the Chartered Institute of Arbitrators
Member of the Civil Mediation Council
Committee Member of the British Insurance Law Association
Chaired Lloyd's Katrina Claims Co-ordination Group
Led Insurance Institute of London Study Group 253 which published "Run-off Management and Commutations in Practice"
Chaired Insurance Institute of London research study group for "ADR in Practice for Insurance & Reinsurance"
Co-founder of INREM
Board Member of ReMedi
Panel Member and Committee Member of ARIAS (UK)
Experience
40 years claims experience in the (re)insurance industry encompassing most classes of direct, facultative and treaty business. Extensive knowledge of underwriting, accounting, claims and coverage issues in the international insurance and reinsurance industry. Has case managed large litigation matters and undertaken many claims reviews and audits. Has written articles, given presentations and spoken at industry conferences on reinsurance claims related matters. Most recently has actively promoted an international mediation initiative for reinsurance disputes (CPR International Reinsurance Dispute Resolution Protocol). Instructed as expert on three occasions and also taken appointments as arbitrator.