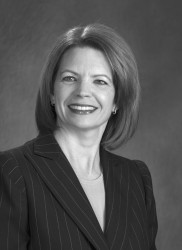 ROBERTS, Debra J.
Education
B.A. English, M.B.A. Finance
Positions Held
Senior Underwriter – North American Reassurance Company, New York, NY
Vice President – Atrium Corporation, New York, NY
Vice President – European International Reinsurance Co. Ltd., Bridgetown, Barbados
All members of the Swiss Re Group, positions held 1981-1993
Present Position
Reinsurance arbitrator (ARIAS-U.S. certified), expert witness, consultant – 1993 to date.
Group CEO and member of the Board of Directors of American Overseas Group Limited, also serves as Chair of Board of Directors of all of its subsidiaries in the U.S., Bermuda and Barbados—2013 to date
Professional Associations
ARIAS (US) – Certified Arbitrator and Umpire
Chartered Financial Analyst – CFA Institute
Panel Member of ARIAS (UK)
Experience
Officer, Life Reinsurer. Officer, Property/Casualty Reinsurer. Officer, (U.S.) licensed reinsurance intermediary.Broad underwriting experience in life/health, property/casualty, finite risk. International capital raising and formation of Barbados companies on behalf of Swiss Re. Lectured at several conferences and seminars in U.S. and UK on various insurance/reinsurance topics. Served on numerous arbitration panels in the U.S. as both party-appointed and umpire. Expert witness for both reinsurance arbitrations (6 in U.S., 4 in UK) and litigations (4 in U.S. federal and state courts). In 2011, elected to the Board of Directors of American Overseas Reinsurance Company Limited and American Overseas Group Limited of Hamilton, Bermuda.