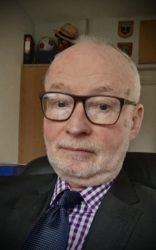 JACKSON, Graham Oliver Leslie
| | |
| --- | --- |
| Member since: | October 1997 |
| Address: | Kent, England |
| Telephone: | +44 (0) 7810 430662 |
| Mobile: | +44 (0) 7810 430662 |
| Email: | jacksongol@msn.com |
| Nationality: | British |
Education
Forest School, Snaresbrook, London E11.
Positions Held
Managing Director, IntAP limited, 2000-2022
General Manager – IRB Brasil Re, London Branch, 1996-2012
Assistant General Manager-Operations – IRB Brasil Re, London Branch, 1989-1996
Managing Director – Robert Bishop Management Services Ltd., 1987-1989
Vice President-Underwriting – Arion Insurance Co. Ltd., Bermuda, 1984-1987
Underwriter – Arion Insurance Co. Ltd., Bermuda, 1977-1984
Substitute-Marine Hull, War and Liability – W.G. Gooda and Others, Lloyd's, 1973-1977
Marine Underwriting Assistant – Norwich Union (CGNU), London, 1969-1973
Also various Bermuda government insurance advisory appointments 1982 – 1986
Present Position
Managing Director – Newhart Associates Limited, since 1995
Managing Director – Newhart Adjusters Limited, since 2022
Vorstand member – IntAP e.V. since 1996
Professional Associations
Member, The Chartered Institute of Arbitrators
Panel Member and Accredited Mediator, ARIAS (UK)
BILA, lay member
Experience
Over 40 years employment with (re)insurance carriers, both in London (Lloyd's and companies) and Bermuda (captive and unrelated), covering property, casualty, marine and other specialty lines. Over 30 years in senior positions in underwriting, claims and management, both live and run-off. Now engaged in managing IntAP, an association of reinsurers affected by asbestos, pollution and other latent claims and through Newhart Associates, providing general (re)insurance consultancy, including all elements of dispute resolution. Has over 25 years experience as an arbitrator, with over 80 appointments, including three as umpire/chairman and/or third arbitrator,  across six jurisdictions including continental Europe and both north and south America. Appointed as an expert on underwriting, claims and general (re)insurance management on over 20 occasions and has also been appointed Scheme Adjudicator in two Schemes of Arrangement.
Foreign Languages
Portuguese (working knowledge)