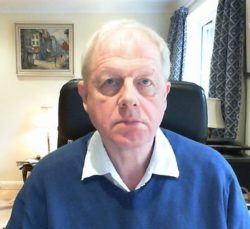 PARKER, Richard Mayo Royston
| | |
| --- | --- |
| Member since: | June 2001 |
| Address: | Surrey, England |
| Telephone: | +44 (0) 1428 645 777 |
| Mobile: | +44 (0) 7768 804 811 |
| Email: | Richard.m.parker@btinternet.com |
| Nationality: | British |
Education
Lancing College, Sussex & Portsmouth Polytechnic
Positions Held
Reinsurance and Special Projects Manager – Aviva Insurance Limited 2005 – Date
Managing Director – Richard Parker & Associates Ltd. 2001-2005
Amazon Project Team member – CGNU, 2001
Head of Operations Collections Manager – CGUII, 1999-2001
Hull, Cargo & Reinsurance Claims Manager – CGUII, 1995-1999
Assistant Claims Adjuster – Commercial Union, 1991-1995
Claims Manager – CH Bohling & Others, 1990-1991
Claims & Admin. Manager – Sirius (UK), 1985-1990
Claims & General Insurance Technician – Insurance Corporation of Ireland, 1981-1985
Present Position
Reinsurance and Special Projects Manager – Aviva Insurance Limited 2005 – Date
Professional Associations
Panel Member of ARIAS (UK) from 2003
Fellow of The Chartered Insurance Institute and Chartered Insurer
Recently retired Member Chartered Institute of Arbitrators
CEDR Registered Mediator
Experience
A member of a number of currently active arbitration tribunals. Several tribunal appointments over the past 17 years.  A practicing reinsurance professional with 39 years experience in reinsurance and insurance both in the London and the International Markets. I have held Chief Executive Officer and Legal Representative positions in Aviva subsidiaries and am a Chartered Insurer (FCII) and a CEDR Registered Mediator. I retired as a Member of the CIArb in 2019. Between 2001 and 2005 I ran my own consultancy company specialising in arbitration, mediation and reinsurance run off.
Prior to that I was a reinsurance manager and marine claims manager at Commercial Union and its successors (all now part of Aviva) and before that held similar roles in a Lloyds syndicate and in London Market Marine companies.
Experienced in arbitration, mediation, and litigation both as a panel member and as a party to the dispute in the UK and overseas.
Foreign Languages
Slight French.